897 words • | Tags: Woodworking
The Carpenter's Apprentice - Woodworking Lesson One: The Dovetail
An excerpt from the eBook The Carpenter's - Apprentice Lessons Learned from a Woodworking Apprenticeship
By Scott Mathson, Whiskey Wood Creations
Woodworking Lesson One: The Dovetail
You're about to read a section from Chapter Four of "The Carpenter's Apprentice – Lessons Learned from a Woodworking Apprenticeship". Read the rest of this eBook, by downloading the PDF.
---
Chapter Four
The Wood Shop, The Lessons, and The Projects
---
I very quickly started to learn that this man, my mentor, is extremely serious about his woodworking and carpentry work. This is more than simply a hobby for him, it is his bread and butter, this is how he feeds his family, and how he pays their mortgage.
---
Woodworking Lesson One: The Dovetail
My mentor said that the first, introductory lesson he wanted to share with me was how to correctly hand-cut a dovetail joint. He got right to it and grabbed some scrap pine lumber from the wheelbarrow next to the wood stove and then started milling pieces to size on the varying saws. He grabbed a Veritas dovetail angle tool, a marking gauge, a small, multiple toothed hand saw, a handmade mallet, and a couple of chisels.
This is it. This is what I had been waiting to do, this is what I had been dreaming to learn: real woodworking joinery. Connecting two pieces of wood together in a method other than nails or screws or glue.
He explained to me what he was doing as he cut the tails of the dovetail joint, after showing me how to mark a hard line with a marking gauge. Again, this was my first impression of any type of advanced woodworking joinery. Something as simple as using a marking gauge was something that I had not done, up until this point in time. I watched so very closely, this was so intriguing to me. I was surprised that he had finished with this four pin and tail dovetail joint within a mere seven minutes or less. It seemed that just as it began, it was nearly over. Wow, this guy's good!
Now the spotlight was on me, only it really wasn't, as he never put me under pressure. He handed me the tools and then simply walked away to keep working on the custom piece he had been working on for a customer. I really liked this. The pressure to cut a perfect dovetail, with him peering over my shoulders, was off.
About 30 minutes later, he stopped what he had been working on and came over to see if I needed any assistance. Yeah, I'm not shitting you: 30 minutes. I had started to feel some self-doubt after just watching him bust a dovetail joint out in a matter of minutes.
He didn't discourage me, though, he did point out that the way that I was holding the saw probably wasn't the most effective and that the correct way to chisel away the excess and clean up the joint was to hold the chisel nearly-flat to actually-flat to the wood, rather than gouging it at a harsh angle. With a helping hand from him, my first hand cut dovetail joint's completion was now in sight. I liked the way he taught. There wasn't any nonsense, there was just solid, time-tested advice and pure confidence in what he did. I was so proud to see this dovetail joint go together with a little persuasion from the handmade mallet. Simply gleaming, I had to keep this and bring home to show my friends and family. He threw his back into the wheelbarrow, next to the fireplace.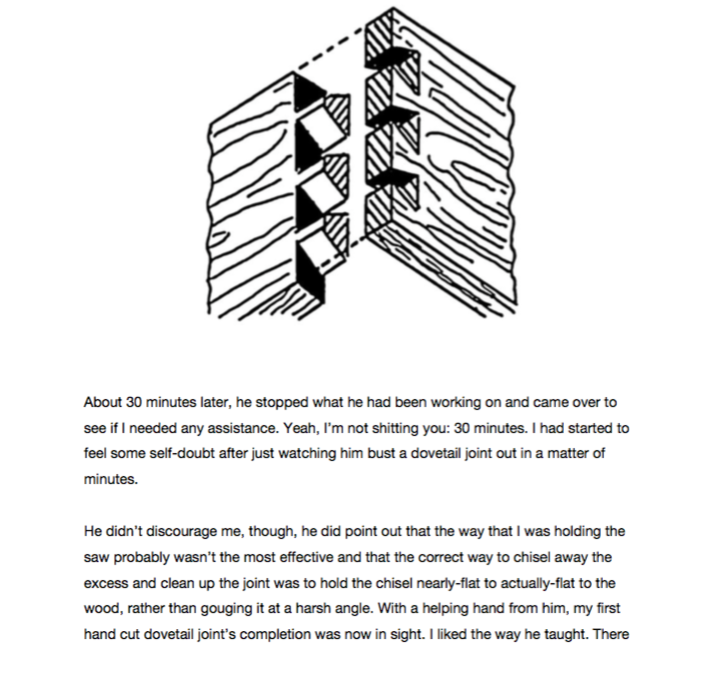 The rest of day one was spent learning more about each other, with emphasis on me sharing more about my past experience and again, what I was seeking to learn from him. John often left the floor open to me, letting me express what I was wanting to learn for each day. I said that I'd like to learn finer woodworking, more advanced joinery, how to use certain machines and tools, and more about the business/industry. Little did I know, I was going to learn all of those things atop a slough of life skills; like how to raise pigs for food, how to shoot a handmade, traditional longbow, I was going to learn his best, time-tested marital and relationship advice, and ultimately, how to be (become) a man.
This is it. This is what I had been waiting to do, this is what I had been waiting to learn.
---
Measure twice and cut once!
"The Carpenter's Apprentice – Lessons Learned from a Woodworking Apprenticeship"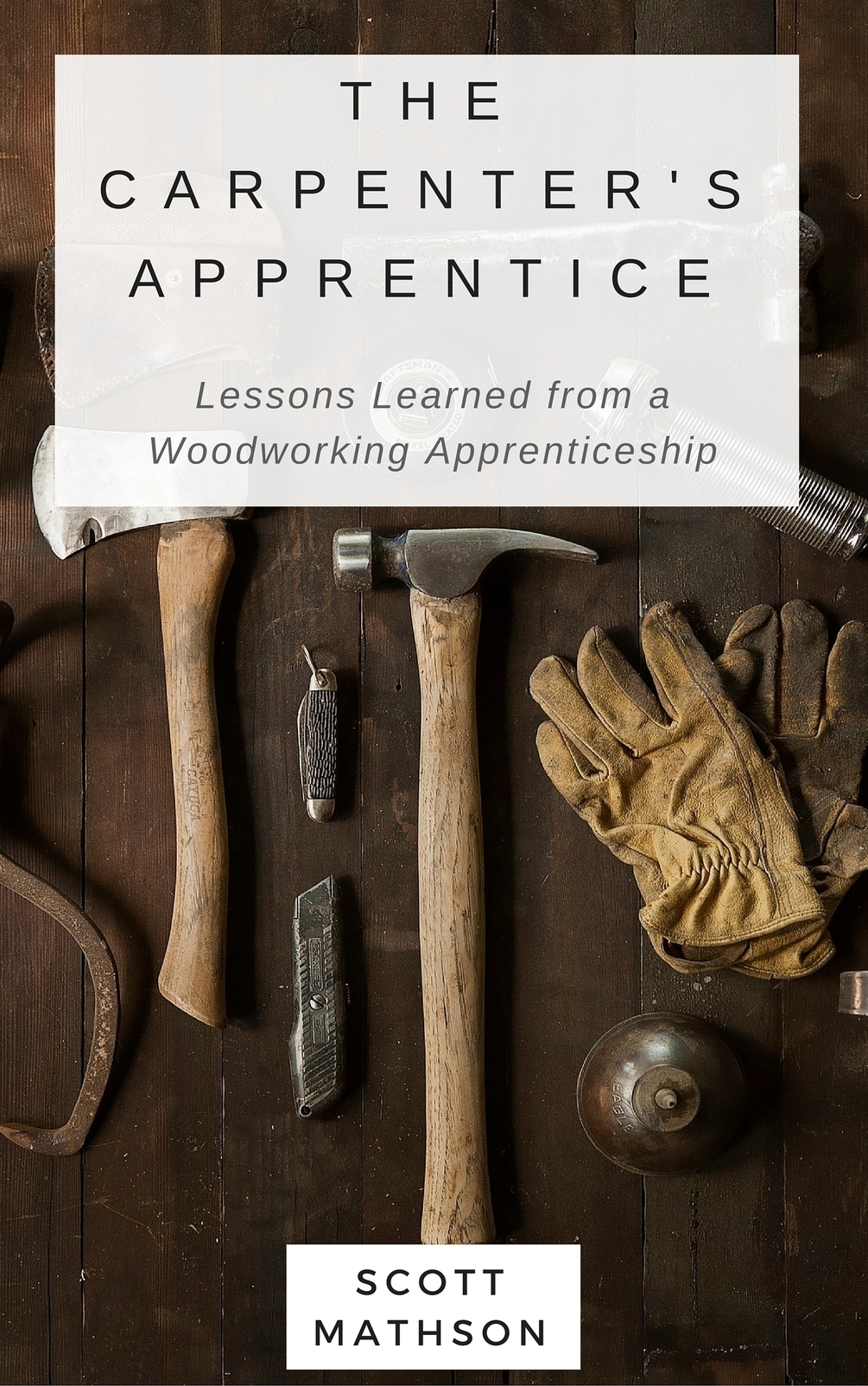 Extremely detailed, 50+ pages with images, techniques, and insight. Not only does this eBook encompass woodworking advice, in particular joinery, apprenticeships, and project/product design advice, it is also the author's story of realizing who and what is important in life.
This is truly as much of a coming-of-age story as it is about the actual processes of gaining an apprenticeship, familiarizing oneself with tools, equipment, and woodworking techniques, and fulfilling customer's orders while working in a production cabinetry wood shop.